Cruising for a Cause: Happy Valley Cruise with Nittany Legends Raises Funds for Charity
Join "Captain" Sue Paterno and the Nittany Legends in 2021 on the Third Annual Happy Valley Cruise. The 2021 Cruise will benefit The Hope Gala*, an organization committed to conquering childhood cancer by supporting the fundraising efforts of THON and Four Diamonds. Each booking provides a donation to The Hope Gala.
Departing from Cape Liberty in New Jersey on June 19, 2021, Nittany Legends such as Tom Bradley, Chuck Burkhart, Chuck Fusina, Jordan Hill, Michael Mauti, Lydell Mitchell, Greg Murphy, Coach Jay Paterno, Steve Smear, Blair Thomas, Coach Ron Vanderlinden, Curt Warner, and Mike the Mailman will sail on Royal Caribbean's Freedom of the Seas to beautiful Bermuda.
The most recent Happy Valley featured Nittany Legends such as Franco Harris, Jeff Hartings, Lydell Mitchell, Jordan Norwood, Coach Jay Paterno, Stephen Pitts, Blair Thomas, and Coach Ron Vanderlinden. Special events included a Tail Gate Party at Key West's Green Turtle, a Ladies' Touch Football Game coached by Franco Harris and Lydell Mitchell, a White Out "Sail Away" Party, and Pool Volleyball against the crew.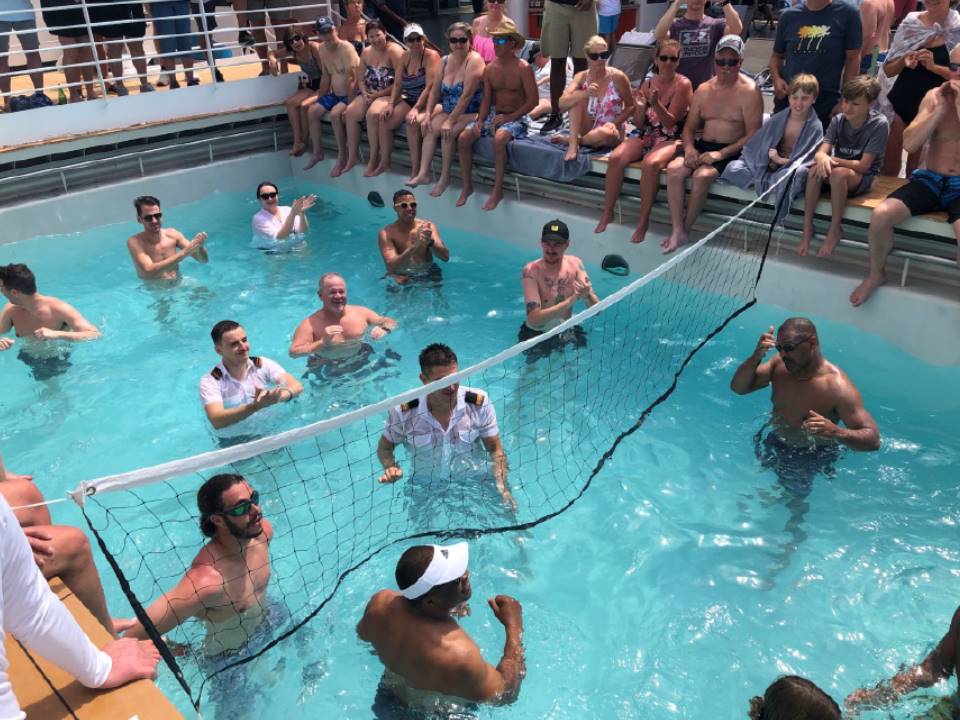 2020 – Pool Volleyball against Crew
Plans are already underway for some very special events for the 2021 cruise!
Join your fellow Penn Staters, meet and talk with some players and support The Hope Gala.
For more information, watch this brief video https://vimeo.com/439051956 or go to https://happyvalleycruise.com/2021-nittany-legends.
* The Hope Gala is committed to conquering childhood cancer by raising awareness, providing financial assistance, and supporting the fundraising efforts of Penn State Dance Marathon (THON), which benefits Four Diamonds, through an annual gala and year-round fundraising.