Obligatory PSU Podcast
The Chapter is partnering with the cast of the Obligatory PSU Podcast to host an event on Saturday, July 13th -- right in the middle of Arts Fest.
Saturday, July 13th: 1pm - 3pm
Days Inn, 240 S. Pugh St, State College, PA 16801
Take a break during the buzz of Arts Fest to listen to some Penn State favorites discuss any and every Penn State topic. Starting with a meet and greet, the event will end with a live recording of their popular podcast. Cash bar and light refreshments available.
RSVP required: email events@psucentre.org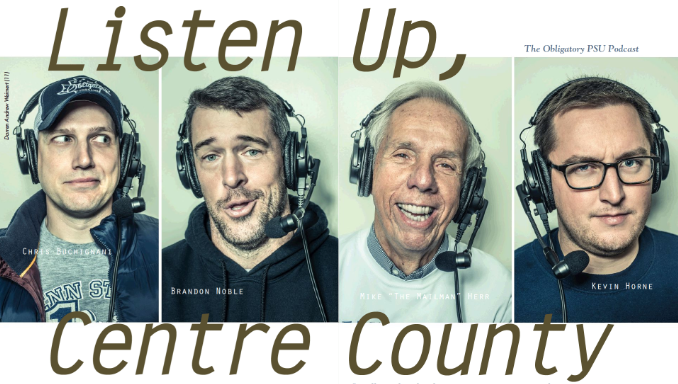 More about Obligatory PSU
The Obligatory PSU Podcast cast is made up of PSU postal icon, Mike "the Mailman" Herr, every Penn Stater's favorite and most beloved mailman; Brandon Noble, former defensive tackle for Penn State, the Dallas Cowboys and the Washington Redskins; Chris Buchignani, the founding president of The Nittany Valley Society; and Kevin Horne, proud holder of three Penn State degrees and former managing editor of Onward State.
Giving you the next-best tailgating experience, no matter how far you are from Dear Old State. They're the most unlikely and lovable bunch of dudes in football pregame show history.
Find Obligatory PSU online